Plastic Windows
Measurements according to your specifications
Wide selection of colours
On-site measurement services
Inner windowsills ledges
For more information,
please contact our specialist
Garnet 70

Profile thickness
70 мм
Number of chambers
5
Water resistance class
6 A
Soundproofing
up to 40 db
Wind-resistance class
C 3
Fittings
VORNE
Possible glazing thicknesses
24 мм; 40 мм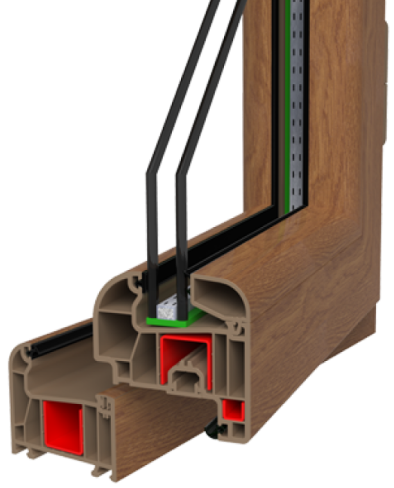 About profile system
Is not exposed to sunlight and other external factors, does not deform. The special grey EPDM gasket ensures perfect tightness.
Lamination with double-glazed windows provides sound insulation
The difference in height between the outer and inner membrane of the drainage channels, prevents storm water from getting inside under the influence of the wind. And also these channels, which are not adjacent to the reinforcing metal, provide ventilation.
The recesses located under the profile ensure easy assembly and disassembly, provide accurate, uniform window installation, and reduce heat transfer.
The stability of the profile against external factors is ensured by a specially designed galvanized reinforcing metal with two grooves.
The glazing beads have a slope of 15°, thanks to which dust does not collect on them and the glazing beads, adhering to the glass, provide it with additional support.
Holand 120

Profile thickness
120 мм
Number of chambers
8
Water resistance class
6 A
Soundproofing
up to 44 db
Wind-resistance class
C 3; C 5
Fittings
VORNE
Possible glazing thicknesses
24 мм; 44 мм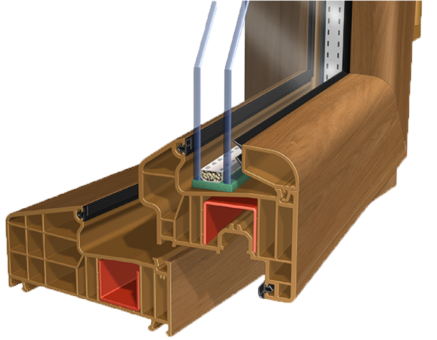 About profile system
Provides sound insulation up to 44 decibels with acoustic glass option.
Designed to facilitate water drainage, it is highly waterproof.
Thanks to the use of reinforced hinges, it ensures that the sash does not sag.
Aesthetic integrity is ensured by the oval structure of the profiles.
The profile has functions for solving all kinds of architectural and technical details with detailed profiles integrated into the main profiles.
The strength values of the system allow it to be used in multi-storey buildings.
T-line

Profile thickness
70 мм
Number of chambers
5
Water resistance class
6 A
Air permeability
4th grade
Wind-resistance class
C 3
Fittings
VORNE
Possible glazing thicknesses
24 мм; 40 мм
European coefficient of thermal conductivity
Uf = 1.3 Wm2K
Heat saving
0.849 m² ° С / W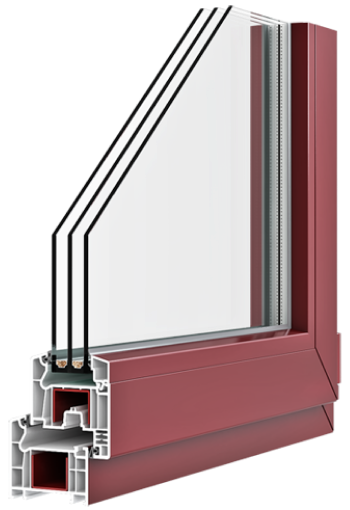 About profile system
Classic design, incorporating the best technical solutions, will make a worthy contribution to the design of your home, while lamination options will organically fit T-line windows into your chosen interior.
T-line window manufacturing technology will protect your loved ones from the round-the-clock noise and unpleasant odours of the streets, allowing you to enjoy full-fledged family communication.
The special five-chamber frame profile makes the T-line one of the most heat-saving window systems: it will reliably maintain the optimal temperature regime for you, protecting the health and comfort of your family.
A double-glazed window unit with a combination of sun-protection and heat-saving glass significantly reduces heat loss, saving your budget, and the picture outside the window will not look overcast.
Smooth glossy profile is easy to keep clean and tidy: unlike wooden frames that have a rough surface and require periodic cleaning and painting, T-line windows are very easy to maintain and save you time, allowing you to devote it to family and friends.
Reinforced T-line frame and sash construction and the ability to install anti-burglar fittings will turn your home into an impregnable fortress, providing a high level of security.
Manufactured Window Designs
FIXED SASH
Fixed glazing is when the possibility of opening a window or part of it (sash) is not provided.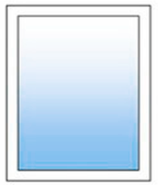 SWING SASH
It is referred to a sash that opens horizontally, in other words, it is a "swing" sash, the most standard version.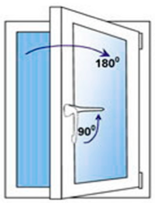 HINGED SASH
Hinged sashes can be opened from the top.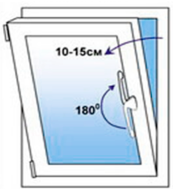 swing-hinged with micro ventilation
The sash can move from the frame by only a few millimetres and a small gap forms around its perimeter. A useful function for ventilation in winter.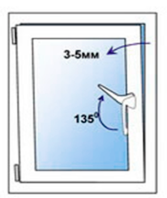 Windows with external opening mechanisms

The vast majority of window designs are manufactured with an inward opening system, but some buyers order windows with external opening mechanisms.
Such models are most often ordered when it is necessary to save space in the room.
French casement window

This is a false impost design. There is no vertical impost.
Fixing and pivoting fittings are installed on the sash from the inside. In fact, one sash plays the role of an impost, and the other acts as a retainer.
Window with impost

Irregularly shaped windows
Customers are increasingly choosing original solutions for window openings: round, arched, trapezoidal, bay windows.

Non-standard windows are good in that they make the room brighter and visually larger, even if there is no room for installing a full-fledged rectangular structure.

Windows with decor elements in glass and on glass