Plafen Profile System

The T-line standard class system is applicable for operation in most latitudes. 70mm depth and five-chamber structure largely prevent heat leakage.
Due to the careful design, Plafen T-line windows have a high sun throughput, and in severe frosts, they will not be frosty.
By increasing the seating area of the glass unit, the formation of condensation is reduced to a minimum.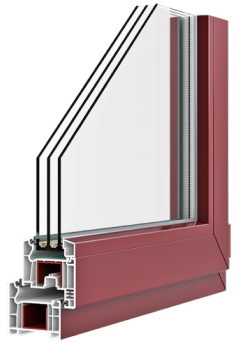 Number of chambers – 5
Width – 70 mm
Number of sealing contours – 2 (colour: grey and black)
Heat saving – 0,849 м²°С/W
Frame height: outside 64 mm, inside 43 mm
Frame height with sash – 112 mm
By the thickness of the front walls it belongs to the profile type "A"
Service life – 20 years
European coefficient of thermal conductivity Uf = 1.3 Wm2K
Technical details
The reduced resistance to heat transfer of plastic profiles without a steel reinforcing insert is 0.849 m2°C/W, with a steel insert – 0.815 m2°C/W.
Two reinforcement options – closed and open.
The overlap of the sash with additional stiffeners guarantees the reliability of the hinge attachment to the sash.
Increased planting depth of a double-glazed window.
The axial dimension of the hardware groove of 13 mm allows the use of anti-burglar fittings, significantly reducing the risk of burglary.